"Oh, now, isn't this all just so edgy?!"
"So fashion-forward?!"
"So cool! So stylish! And so right for Spring 2013!"
Can't you almost hear the pretentious banter in the offices of Urban Outfitters, which is pushing an array of druggie duds and doodads these days? And can't you almost hear the laughter when someone noted for the company's rooms of fashion trendsetters and marketing geniuses that these products were sure to make fuddy-duddies mad — which, of course, would be great exposure for their wicked awesome brand?!
It should come as no surprise that the clothing and household goods chain that has been making fun of Jesus Christ for more than a decade with action figures, bobble-head dolls and T-shirts is also pushing flasks made to look like prescription medicine bottles, "Syringe Shooters," and clothing that cheerleads marijuana use. I mean really. When you're this witty, amusing and on the cutting edge of fashion, there's no time in the day to consider that prescription drugs now kill more Americans than any other cause of accidents or poisonings, and that marijuana abuse is the No. 1 reason why adolescents in the U.S. are admitted for addiction treatment.
Doesn't everyone need sets of these in their home — or dorm room?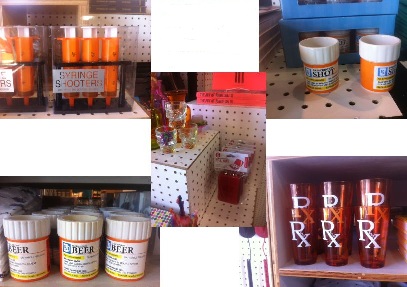 Another case in point: shirts that look like this one for "women," photographed last week at an Urban Outfitters in California. "The art of getting high," it states: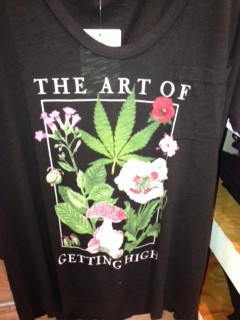 Then there's this one for "men," which was photographed at the same store:
No, I'm not falling for the ridiculous line that Urban Outfitters appeals mostly to people age 21 and over. It doesn't. Go into any one of the chain's locations, and you'll find plenty of teens there. In fact, you're likely to find mostly teens there.
And no, I'm not interested in debating the finer points of commercial speech rights in the United States. I don't dispute that Urban Outfitters has the right to plaster marijuana leaves all over whatever it wants — and wants to sell. It does.
But let's not forget our rights to boycott Urban Outfitters and to urge others to do the same. Let's use our speech rights to call this what it is: disgusting.
DrugFree.org has a
nice post
explaining efforts to stop Urban Outfitters' irresponsibility.
Here's contact information for Urban Outfitters:

1. Send an e-mail to Richard A. Hayne, chief executive officer and chairman: richard.hayne@urbanout.com
2. Write a letter:
Urban Outfitters, Inc.
5000 South Broad St.
Philadelphia, PA 19112-1495

3. Sign this Facebook Causes petition.