Though the hard numbers for the 2013-14 academic year aren't in, officials with the Colorado Department of Education (CDE) say the state's schools are reporting "a sharp rise" in marijuana-related troubles for students.
"Marijuana is the only thing anyone attributes to the problems we're seeing," said Janelle Krueger, program manager for the CDE's Expelled and At-Risk Student Services and a longtime adviser to the Colorado Association of School Resource Officers.
But get this: while Colorado educators, school nurses, school resource officers and other credible professionals working directly with students say marijuana is the source of growing problems on campus, they can't isolate the drug's impact. Why? Because marijuana-related offenses are lumped into a category that includes data involving other substances, such as cocaine, heroin and prescription drugs.
It's time for that to change.
The impacts of alcohol and tobacco on Colorado schools are tracked individually — and marijuana now must join them with its own category. Though the marijuana industry routinely fights the collection of data regarding student weed use — and, let's not kid ourselves, would fight tooth and nail to ensure these Colorado marijuana data remain obscured — this is one of those times when pro-legalization supporters must be reminded that they're the ones who insist marijuana be treated just like alcohol.
What will it take to make this important shift in reporting marijuana data? A change in state statute is ideal because anything less would make the reporting of such data by individual Colorado school districts voluntary, Krueger said. "State statute requires schools to collect data, but not in a way where the picture of marijuana's impact on students is as complete as it could be," she said.
Nevertheless, the picture that is coming together of Colorado kids' problems with pot isn't pretty. Take a look at the graph below. Here are some things to note about it:
2009 ushered in Colorado's marijuana boom. By the end of the 2010-11 school year, drug-related expulsions rocketed up 45 percent.
Colorado's green rush has wiped out nearly a decade of declines in drug-related school expulsion. The 2008-09 school year represented an eight-year low. Drug-related expulsions in the 2010-11 academic year reached a 10-year high.
Don't get too excited about those drops in expulsion reported during the 2011-12 and 2012-13 school years. One thing that might explain them? During that period, approximately 100 Colorado cities banned marijuana dispensaries.

It's also important to note, Krueger said, that the expulsion numbers recorded as of today are already ahead of where they stood at the same point in the 2009-10 school year.

These data represent only the students who were disciplined. In other words, they don't reflect the addicted kids who dropped out of school. They don't reflect the kids whose parents and teachers quietly referred them to treatment. They don't reflect the kids with untreated substance dependence whose parents haven't caught on to their problems yet. They don't reflect the kids permitted to sit stoned in class as long as they're quiet and don't bother anyone else.
And just think: Colorado's recreational pot shops open in January.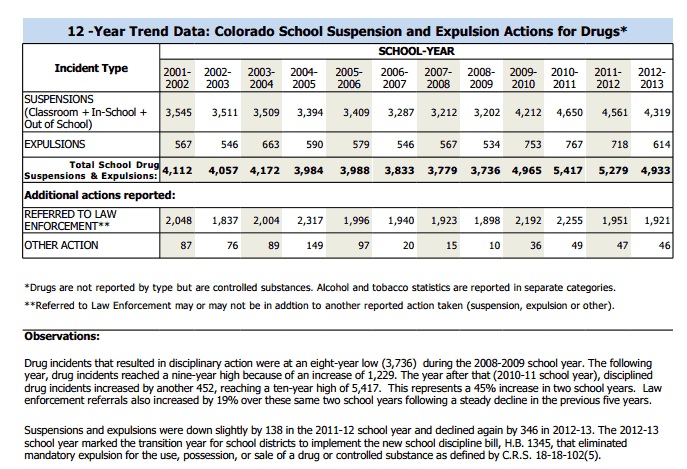 Head to SmartColorado.org
to contact your elected state officials. Ask them to sponsor legislation that would make it easier for Colorado to identify marijuana's impact on our state's students and schools.
Christine Tatum is a former staff writer for the Chicago Tribune and The Denver Post. Read more about her here.