It was his tenth wedding anniversary, but Kevin Hines insisted on making just one more stop before heading home to San Francisco to celebrate with his wife. "We've got to keep working to get the messages of suicide prevention out there," he said Oct. 22 in Loveland, Colo., just after addressing about 250 people who attended a conference presented by the Colorado School Safety Resource Center. "We need better mental healthcare in this country."
Hines knows that need more intimately than many people. He made headlines in 2000 when, at age 19, he attempted suicide by jumping off the Golden Gate Bridge. The bridge's rails were only 4 feet high, making the jump easy, he later said — and the voices in his head, the vicious clarion call of his bipolar disorder, were telling him he had to die. He believed them.
But he survived that day.
Hines now travels the world to teach suicide prevention and mental health awareness. He also champions greater access to mental healthcare for all. His presentations focus on an array of topics, including drug and alcohol prevention, wellness in the workplace and anti-bullying.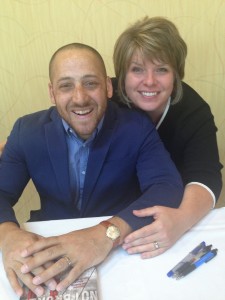 We wholeheartedly recommend his memoir, Cracked … Not Broken: Surviving and Thriving After a Suicide Attempt (Rowman & Littlefield, 2013). It is a difficult, deeply moving and incredibly hopeful look at Kevin's struggle with mental illness and his determination to be mentally well. It's also a resource for anyone coping with a loved one's suicide or suicide attempt. Kevin doesn't present easy solutions or give false promises of a cure for mental illness. Instead, he faces the difficulty head on — and shows how hard work, determination and practical steps, such as nutrition and exercise and getting appropriate rest, can help people manage mental problems.
Kevin said he is already at work on a second book — this time with this wife to provide a look at how they team as a couple to cope with his mental ups and downs. Earlier this year, in a blog post praising his wife, Kevin wrote:
"I say now to all of those, including my wife, who became romantically involved and soon fell in love with a person who suffers greatly from a mental health or co-occurring affliction … Thank you from the bottom of our hearts, thank you for all you do."
You can find Kevin on Facebook here.
Christine Tatum, pictured with Kevin Hines, has teamed with her husband, Dr. Christian Thurstone, to write a book for parents whose kids have been diagnosed with substance addiction. They're also proudly working with Rowman & Littlefield Publishers and look forward to teaming with Kevin Hines to promote mental health.